Find a Condo For Sale In St. Thomas
If you live in the United States, you may very well find yourself landlocked. Unless you live close to the east or west coast, beaches require a long drive or travel preparations by flight to a beautiful beach destination. At Coral Ridge Realty, we can help you locate the perfect land for sale in St. Thomas or St. John. We also have over 100 condos available for sale. Choose one of these properties for the perfect beach access.
Condominiums are a great alternative to buying a home. A unit typically has 1 or 2 bedrooms and baths and between 1,000 and 2,000 square feet.
Condo Perks
There are several advantages to purchasing a condominium instead of a home. First, condos offer a lot of security. Feel safe in your unit surrounded by only neighbors of the same complex. Our condos are usually in gated communities or have locked entries. Secondly, condos offer great amenities a single home property may not. View our condo listings and fall in love with all the perks. From community pools to fitness centers, and clubhouses to lawn and property maintenance, you'll have all these luxuries available with your unit.  Your grass will be mowed by property management. This means the common grounds will always remain impeccable. Maintenance also includes roof repairs! Lastly, condos are much more affordable than single family homes. Save money and purchase a reasonably priced condo.
Views
Location is key and on St. Thomas US Virgin Islands, we have condos located beside the ocean as well as listings overlooking Frenchman's Bay, Caret Bay, and Pillsbury Sound to name a few extraordinary locations. Most of our condo units offer ocean views. You'll be living the dream if you select one of our condos with panoramic views of the bay, ocean, or a marina.
The studio condo below is now available and under $150,000! It comes completely furnished. Located on the east end of St. Thomas at  291 Smith Bay EE St. Kitts, this unit is close to shopping and restaurants. The complex has 2 pools, mail delivery, and an on-site restaurant as well.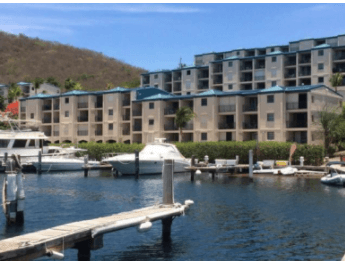 Below is one of our finest condos that just entered the market! Caret Bay Villas has been newly remodeled. Enjoy the all the upgrades. The views from this 3,200 square feet condo are breathtaking. This unit is a must see from its beautiful décor, all new appliances, tasteful furnishings, this unit will meet all your highest quality expectations.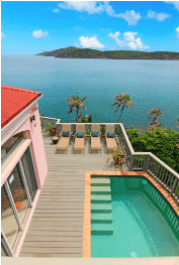 Convenience
Most of our condo complexes allow pets and include plenty of parking for your family as well as your guests. Head to the beach to enjoy the waves or take a refreshing dip in the community pool designated to your condo complex.  The pool is only accessible to neighbors within the same condominium complex. There are condo fees that must be paid each month and the fees often include payment for electric, water, and cable.
Moving With Ease
Moving furniture from the states to St. Thomas can be difficult. Some of our condos come fully furnished at no additional cost. Avoid the hassle of hauling old or buying new furniture. Just bring yourself and a couple bathing suits and you'll be close to all set!
Multiple Units Available
We have condo listings for whole complexes in the Virgin Islands with over 8,000 square feet of combined area!  Buy several units and sell them individually or rent them out as investments.
There are several updated units available that you don't want to miss out on.
You can find a list of all our condos for sale here on our website and sort by list price, the number of bedrooms, the number of bathrooms, year built, square footage, and recently updated options.