St. Thomas and St. John Culture
When you rent or buy a condo or home from Coral Ridge Realty you are sure to fall in love with the Virgin Islands. You will experience some of the best sights, meals, music, traditions, religious rituals, and lifestyles when you begin embracing the culture of St. Thomas and St. John!
Enjoying the St. Thomas Culture
Worship
St. Thomas has several different historic places to worship on the islands. The synagogues and cathedrals date back to the 1700s. These include the Cathedral Church of All Saints, St. Thomas Synagogue, Frederick Lutheran Church, and St. Thomas Reformed Church.
Hobbies
If you love being outdoors, there are all sorts of water activities for you to participate in. Explore and enjoy all that the Virgin Islands can offer. Have fun kitesurfing, fly boarding, riding jet skis, or snorkeling along the St. Thomas beaches and dive sites. The possibilities are endless.
Events
St. Thomas holds cultural events throughout the year to celebrate the island's heritage.  This month (April), St Thomas holds its annual Virgin Islands Carnival at Charlotte Amalie (insert external link: www.vicarnival.com) In May, there is an Arts Alive Annual Springtime Arts & Crafts and Music Festival in the Tillett Gardens. (insert external link:tillettgardens.com)
On Columbus Day weekend (October) in the Emancipation Gardens, St. Thomas celebrates USVI-Puerto Rico Friendship Day.
Food & Drinks in St. Thomas
St. Thomas has many restaurants to choose from.  Most of these have great reviews and have ratings of at least 4 out of 5 stars. Havana Blue, Cuzzin's Caribbean Restaurant & Bar, and Hook, Line, and Sinker have great ratings and can be found near the Redhook Bay. You are sure to enjoy a beautiful view while eating at these places.
Hook, Line, and Sinker serves snapper creole, pan fried grouper, and Mahi sandwiches.
Havana Blue has a nice ambiance with blue lighting and the restaurant looks over the water. Their entrees include sea bass and Latin-inspired dishes.
During colonization, the Indians, Europeans, and Africans mixed their cooking styles and ingredients and made amazing meals. They began cooking beef with onions and garlic. The popular curry cuisine is a signature now. The indigenous Indians came up with this mixture of spices that make curry so delicious. Fish soup, callaloo, and stewed oxtail are popular dishes too. Besides fish and beef, chicken and goat are also popular meats in the Virgin Islands of St. Thomas.
Enjoying the St. John Culture
Worship
Built in 1750, enjoy a worship session at the Emmaus Moravian Church in St. John. Cherish the feeling of meditation inside this building constructed of rubble masonry with stucco.
Hobbies/ Art
Natives and visitors of St. John enjoy spending time making household items. Some hobbies include basket weaving, ceramics, woodcrafts, and glassmaking.
There are excavation digs at Cinnamon Bay where you can dig up artifacts that have been buried for over 500 years. Artifacts are from the Taino Indians as well as Danish plantations.
There are also tons of art galleries and museums to visit that house art that provides a look into the Virgin Islands history. You can also view West Indian Mahogany furniture, clothing, photos, and artifacts from plantation and slavery days on the islands in these museums.
Events
Like St. Thomas, residents of St. John also participate in USVI-Puerto Rico Friendship Day, which is held in the Emancipation Gardens on a weekend in October.  In June and July, the St. John Festival takes place in Cruz Bay. On July 3rd each year, people attend Franklin Powell Park in Cruz Bay to enjoy the Emancipation Celebration.
Food in St. John
Many of the places to eat in St. John have outdoor seating as this is custom to the natives. Restaurants in St. John's Cruz Bay include Morgan's Mango and Woody's Seafood Saloon. Go to these restaurants for casual seafood and delicious mixed drinks at an outdoor bar.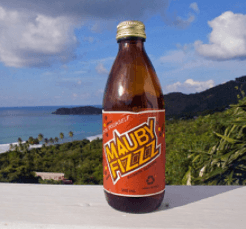 The Virgin Islands are known for their rum. They make several different variations of rum and the most popular is the Cruzan Rum, which is manufactured in St. Croix.
Besides rum, there are many more tasty drink options specific to the Caribbean and the Virgin Islands. Sea moss, which is made of seaweed that's boiled until it dissolves and then mixed with milk and spices is a favorite of the locals. Mauby is another favorite drink on St. John. Mauby is made by combining mauby bark with cinnamon and boiling them together. The online article "Virgin Islands Food and Drinks" states that a few other drink favorites include passionfruit juice, sorrel, banana punch, and coconut water.
At Coral Ridge Realty, we are sure that you will embrace and love the amazing culture of the Virgin Islands. Book a vacation rental or search for a new home or condo with us and start living the island life. We want you to enjoy all that St. Thomas and St. John can offer you!