St. Thomas Vacation Rentals: What Do I Need?
There are hundreds of thousands of destinations in the world to travel to for vacation. When you are looking for places to travel, there are a lot of things that come into play such as passports, cost, location, etc. For that reason, we decided to give you a run down of everything you might need and want to know about the island. After reading this blog, you will know the ins and outs of traveling to St. Thomas. We may be a little bit biased but in our opinion, you cannot find anywhere as beautiful and as peaceful as St Thomas, Virgin Islands. We have a number of different available vacation rentals St. Thomas, USVI.
St. Thomas, Virgin Islands Fun Facts
Where is St Thomas Located? What is the population of St. Thomas? What is the island made up of? How do I get around the Island? And More!
The three islands that make up the U.S. Virgin Islands are St Thomas, St. John and St. Croix. The island of St. Thomas is located East of Puerto Rico and West of the British Virgin Islands. St. Thomas was purchased by the United States in 1917 and the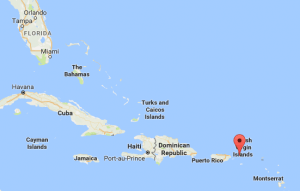 residents of the population were granted U.S. citizenship in 1927. The island of St. Thomas is only 32 square miles and has a population of 51,634. On the island, there are 7 sub-districts: Charlotte Amalie (the largest of the seven), East End, Northside, Southside, Tutu, Water Island, and West End. You can travel around the island, visiting the different sub-districts, using the taxis that are available! Some are even open-air so that you can enjoy the beautiful weather.
The climate is warm and sunny year-round, which is fitting for the beautiful beaches in St. Thomas that line the perimeter of the island. There are many different options for vacation rentals in St. Thomas that are located on the east side of the island to the west and everywhere in between.
Do I Need a Passport for St. Thomas?
If you are a U.S. citizen, you do not need a passport. However, a passport is recommended for airline travel. You may be required to show additional proof of citizenship when leaving the islands if you choose not to use a passport. These things could include a birth certificate or government-issued photo ID. If you are not a U.S. citizen, you will be required to have a passport from the country in which you are a citizen.
What is the currency in St. Thomas?
Since the island is a territory of the United States, the currency used is the U.S. dollar. There are ATMs that can be located on St. Thomas as well as the other two islands. For the most part, credit cards are accepted at the different establishments on the island.
What is the Time Zone in the USVI?
The U.S. Virgin Islands are in Atlantic Standard Time and so during the spring and summer are on the same time as the U.S. East Coast. However, when the clocks fall back in the U.S., USVI stays an hour ahead.
Vacation Rentals St. Thomas
Now that we have gone over the basics of the islands, let's get into the more exciting part the USVI has to offer: VACATIONS! Coral Ridge has a number of different vacation rentals St. Thomas that are available year round. Our rentals are located in popular spots around the island. All of our villas are privately owned and we offer free WiFi, parking, and no resort fees when villas are booked through our website. We have quaint one-bedroom condos for you and your loved one to sneak away to or places a little larger for the family. Below, we have highlighted a few of the properties we have available for rent and what they offer! Our properties offer weekly or monthly vacation rentals!
1 Bedrooms:
Tortuga Del Mar

This vacation rental in St. Thomas can accommodate up to 4 guests with 1 bedroom and 1 bathroom and a sleeper sofa. There is a private balcony that many of our guests enjoy using for afternoon cocktails.

Isla Paradiso

This condo features a king-sized bed and a pull-out couch, allowing up to 5 guests but comfortably sleeping 4. There is a balcony that wraps the entirety of the condo from the living/dining rooms to the bedroom. The view from this condo is immeasurable, allowing you to see as far as the British Islands when the weather is clear!
2 Bedrooms:
Our Paradise

Set on the hillside, this condo features two bedrooms (one king bed, one queen bed), two bathrooms and two pull out sofas. The ocean breeze can be felt on the balcony. Enjoy the beautiful views Sugar Beach has to offer!
Things to Do in St. Thomas, Virgin Islands
Now you know all about St. Thomas and where you can stay, let's get into what there is to do on the island. Visiting a Carribean island is nothing short of exciting! Whether you are looking for something relaxing or looking for adventures, St. Thomas will not disappoint. The list of activities is long and you will certainly not run out of things to do. There is something for everyone, whether you want to check out some of the historic areas of the island or literally dive-in to more hands-on activities. Some people make it a point to visit each of the beaches on the island.
Beaches in St. Thomas
Courtesy of VisitUSVI.com, we have given short explanations of the different beaches in St. Thomas. To find out more about the beaches on the other islands, visit www.visitusvi.com. Each of these beaches is easy to travel to from our vacation rentals St. Thomas.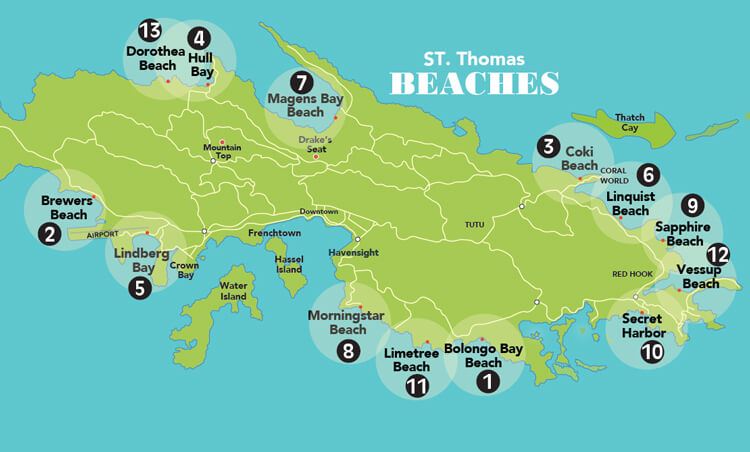 Bolongo Bay is on the south shore of St. Thomas and offers different watersports and other rentals.
Brewer's Bay features shallow waters that are perfect for sunbathing!
Coki Beach is a white sand beach that is located on Coki Point. This beach is known for its clear waters, making it ideal for snorkeling and diving.
Hull Bay is on the north side of the island and is a local favorite. Here you will find fishermen, surfers, and local families enjoying the surf!
Lindbergh Bay is home to three hotels surrounded by palm trees and sea grapes!
Lindquist Beach is on the east end of St. Thomas with clear as crystal waters that are calm and often used for snorkeling.
Magens Bay is the most popular beach on St. Thomas. It is a one-mile long public park that is heart-shaped and very calm. There are chairs and floats that can be rented with lifeguards on duty, making it a great option for people with children!
Morning Star Beach is at the Frenchman's Reef & Morning Star Marriott Resort. Here you will find a restaurant/bar as well as watersport rentals.
Historical Attractions in St Thomas
Below, we have listed a few of the historical attractions that may interest you while staying in vacation rentals St. Thomas.
Fort Christian: A fort in Charlotte Amalie built 1672-1680 and named after King Christian V. It is the oldest standing structure in the U.S. Virgin Islands and has been used for a variety of things.
Blackbeard's Castle: This historical point of interest is located in Charlotte Amalie and was built in 1679 by the Danes. It was used as a watchtower to protect the harbor and Fort Christian.
Cathedral Church of All Saints: Also located in Charlotte Amalie, this church was built in 1848 to celebrate the end of slavery.
Activities in St Thomas
The available activities in St. Thomas are endless! If you are looking for water activities, there are multiple beaches that you can go snorkeling, scuba diving, kayaking, fishing, boating. For people looking to stick to land activities, there are a number of activities. St. Thomas is home to beautiful parks that offer daily tours and shows. If you want to see the island from above, you might find a helicopter ride an interesting experience! For adrenaline junkies, check out the options to skydive in St. Thomas. As you can tell, there is an expansive list of activities and things to do in St. Thomas Virgin Islands. Visit our rental page today to find a vacation rental St. Thomas that fits your family's needs! Or contact us and let us help you.